Farmer's Syndrome (or why Sherlock Holmes is not hyperstitional)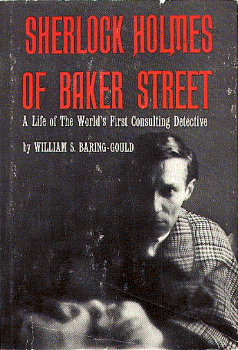 In response to my first post on this site ('How do Fictions become Hyperstitions?'), johneffay raised a number of interesting points. 'I guess the real Hyperstional archetye (at least in modern literature) would be Sherlock Holmes,' John writes, 'who has been written about by many people since Conan Doyle, [and] is believed to be a historical character by some.'
Now, in refuting the claim that Sherlock Holmes is hyperstitional, as I aim to do, I hope I will be able to elaborate some of the key differences between hyperfiction and hyperstition.
Holmes has clearly long since passed from the realms of the fictional into the hyperfictional, for some of the reasons that John suggests. Holmes is no longer the exclusive property of Doyle; he has become a collectively-occupied fictional agent who is indeed believed to be a real historical figure by many.
Perhaps Philip Jose Farmer has been the most rigorous in 'hyperfictionalizing' Holmes. In his simulated biographies, Tarzan Alive and Doc Savage: Man of Bronze, Farmer brilliantly repositioned many pulp and literary characters - including Holmes, Bulldog Drummond and Fitzroy Darcy - as actual historical figures whose special abilities resulted from mutations caused by a meteorite hitting earth near to the Yorkshire town of Wold Newton.
Farmer's pathologically detailed elaboration of the 'Wold Newton' family tree - a masterpiece of fake scholarship - has spawned a wealth of related expository and speculative material. Tarzan Alive exhibits all the pedantry demanded by the most anal scholar, and demonstrates what I call 'Farmer's Syndrome': the apparent inability to treat fictional material as unreal.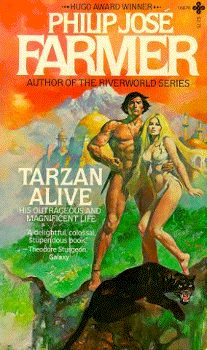 Fascinating as this is, it is not hyperstitional. There are number of reasons for this, but what I particularly want to stress at the moment is the role of unbelief. In hyperbolically inflating the logic of hyperfictionalization, PJF reveals that hyperfiction, far from challenging the belief function, perversely confirms it. The Wold Newton mythos asks us to believe in Holmes, Doc Savage et al.
As ever, Castaneda is a useful comparison here. As Deleuze and Guattari establish, during the course of the Don Juan books we cease to believe in Don Juan as an actual biographical individual. Yet this in no way invalidates Yaqui sorcery. On the contrary. Unbelieving in Don Juan may well be an inherently important aspect of the initiation into Yaqui sorcery.
The intensive regions Castaneda traverses, the allies and the enemies he encounters there, can only be experienced practically. Practice and unbelief are strongly related. Don't believe it, do it.
Posted by Linda Trent at July 18, 2004 11:34 AM