Europe - at the Cutting Edge (!)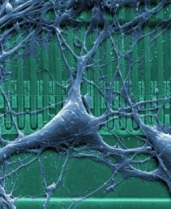 "European researchers have created an interface between mammalian neurons and silicon chips. The development is a crucial first step in the development of advanced technologies that combine silicon circuits with a mammalís nervous system.
The ultimate applications are potentially limitless. In the long term it will possibly enable the creation of very sophisticated neural prostheses to combat neurological disorders. What's more, it could allow the creation of organic computers that use living neurons as their CPU...
Posted by sd at March 30, 2006 08:14 AM | TrackBack