Meatology of the Redeemer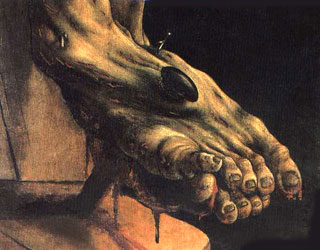 "Very truly, I tell you, unless you eat the flesh of the Son of Man and drink his blood, you have no life in you. Those who eat my flesh and drink my blood have eternal life, and I will raise them up on the last day." (John 6:53-54)
I saw the movie two times; first time, just one week after it released. I was expecting a Baconian surgery of the crucifixion (the diffusion and slow melting of Cross into spinal cord, gradually gnawing at the root of the brain as a bio-occult prosthesis programmed to introduce body to forces and intensities, ungrounding the face from within) due to all propaganda about the movie that it has a brilliant anatomical narration on the event of Crucifixion -- Event-as-Entity in a Deleuze-Guattarian term -- but I was rather disappointed (should confess enjoyed the movie though), it was too Brave Heartish; plus, found it corresponding to this version of crucifixion (cross as a flying machine set to eat the body, chewing its meat, and consume enough flesh to give the body a lightness capable of handling the process of religious levitation, making it much more easier to fly and reach its idealist lightness). And the second time, nearly two months ago, I watched it in cinema at 11:00 pm, a perfect time to taste Golgothic Materialism. I was with a friend, we knew what expects us but a small group of moviegoers apparently had no clue about the notorious scenes. Everyone had a pocket of popcorn and chips, enthusiastically talking about the movie and the fact that such a blockbuster movie has come to Iran with no delay and no resistance from authorities. When lights turned off, I could hear them eating, cracking sounds made the atmosphere too noisy, but as soon as the notorious scourging scenes started all sounds faded. People moved in their seats in discomfort. Step by step, it made them more nervous but no one left. The edgy mood continued until the last breath of the Crucified, when his eye closed. A child loudly and with so much curiosity asked his parents, "Did he finally die?" it echoed in the salon as the perfect climax of the movie, the utter subversion of Crucifixion as a horror story. A question which is always asked at the end of a monster movie, the final death of the last Boss in videogames, the last breath of an undying demon whose death signals hundreds or perhaps thousands of sequels (The Christ Resurrection, The Christ: Genesis Project, The Calvary Massacre, …).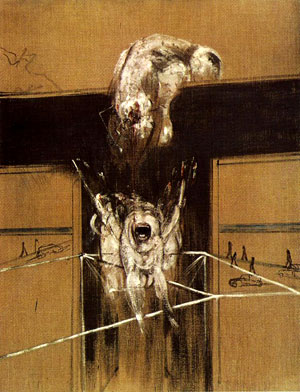 what I expected

He told his cult: "Those who eat my flesh and drink my blood abide in me, and I in them." The act of self-mutilation to spawn and creates, to breed little Sons (little christs) and seed a cult only correspond with the demonic passion to spread a vast progeny, a snide and bloody answer to God's creation engine. Did anyone remember the article, The AOE and the Brotherhood of Nine' and its opening image?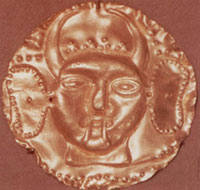 Angra.minuy or Ahriman

It was Angra.minuy or as linguistically oversimplified Ahriman (the supreme deity of Xrafstra (Khrafstra), the pest-legion). I asked Robin undercurrent if he knows why his face is bizarrely twisted, ridiculously disfigured and he has funny big ears. The question went unanswered from my side. In mythologies, Gods or Titans are mostly self-fertilizing or fertilize each other to create but there is an exception, Ahriman's method for creation is to turn his own body into a bloody slaughterhouse factory of creation (an ironic answer to clean pro-creationist dimension of cosmogony); whenever he desires to spawn a legion, to create, he cuts a part of his body, lacerates an organ, rips a piece of his flesh, mutilates his body and from that piece of flesh (nasu) he creates a legion, a cult, a religion devoted to himself. The wounds are cured in time, but scars remain, everywhere a machinery of fibrosis and mal-healing is at work, hordes of collagen molecules integrating in the regions of malefaction (criminal creation), new meat over wounds but always in the form cicatrix (more meat than is needed to heal the wounds): Ahriman as the traumatic Redeemer or the other way around.
The fungal resistance of the Christ (prolonged dying without climax or Did he finally die?) suffers no pesticide or anti-fungal solution, in the presence of pesticide or heat, it mutates, developing a new mode of endurance, living stealth and quiet, moving under wraps. If Gibson's The Passion of the Christ looks as an anti-catholic movie, it is because Catholicism has been mutated long ago to what Gibson slyly maps in his work. Reversing the panorama from the bricks of a catholic Church to the flying pieces of the Christ's flesh when he is scourged, it is the same old but hideously mutated politic of Catholicism. The demonic endurance of the Christ in Gibson's movie is the bloodless heart of Catolicism itself: the beast never dies. (This is a fact that a Christian involuntarily misses.)
This is why Ibn Maymun, the ultimate occult-saboteur and Hyperstition engineer, recommends that the best solution is to sabotage Catholicism and all other modes of monotheism from within, poisoning them with their own toxin. Direct use of pesticide is too dangerous.
However, I have no hatred for the Crucified, simply because I am a Muslim. If I'm right, Robin Undercurrent wrote a piece on the movie and discussed that the hatred for the Crucified is much based on the duration and intensity of being exposed to its corruptive radiations; fortunately, as an Iranian I have not been exposed too much to its radiations. Besides, following Quran, if I take the islamic version of the story, I can say that the whole story of crucifixion is a lie; consequently, Gibson's movie can be regarded as another stealth political maneuver of Catholicism (or in a more general sense, the Cult of the Crucified, the traumatic Redeemer).
"I do not look into monotheistic religions as Serat-o-al-Mostaghim (the direct path), nor do I curse them as ghouls of repression. I simply see them as generous mothers pregnant of their minorities, thousands, millions of them; a female scorpion devoured by its own children, ripped apart from the belly. This is what Ibn Maymun taught us." (From Jay's correspondences to Col. West)
Watch the Passion of the Christ as a stimulating carnographic horror movie (swarmed with sequels).
PS. I'm with Osa who finds strong snuff elements in the Gibson's movie. As a movie-addict, I have followed necro-snuff movies for a long time. Yes, he is right. If you have a strong stomach and you can find this very hard-to-find title (Aftermath - 1994), watch it and see the similarities of this brilliant necro-snuff movie (full of references to Xianity and the flesh of the Christ) with The Passion of the Christ -- directed by another whacky Spaniard, Nacho Cerda.
Posted by hyperstition at October 22, 2004 02:49 AM